MCV Variable Speed Fire Pump Controllers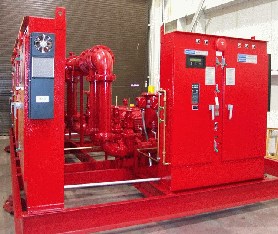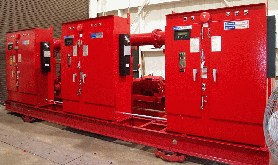 The Variable Speed Controller works by varying the speed of the motor depending on the demand of the pump. It is best thought of as cruise control: if you encounter a hill, the car automatically speeds up to compensate for it. The opposite is also true, and this is exactly how a VFD Drive works. Through precise and careful engineering we are able to set the pressure setting to anything you want, and keep it there within 1 psi.
The reliability of our Variable Speed Controller is also phenomenal. It will normally start with the Variable Frequency Drive, but as a precaution, if it does not turn on within a set amount of time the controller switches over to bypass mode. If your Variable Speed Fire Pump Controller has a reduced voltage starting method, it will use this first, and then go across the line. This means our Variable Speed Controller has 3 entirely separate starting methods, while normal reduced voltage controllers only have 2!
For more detailed information you may refer to the following: